Slack all the things!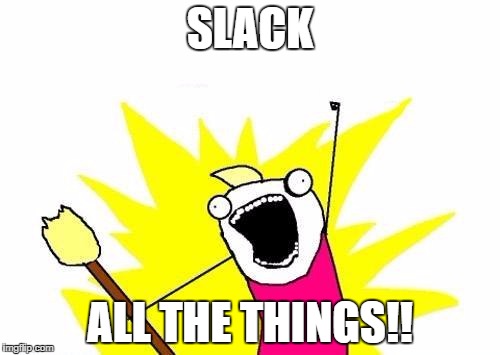 OK, if you haven't heard of it before Slack is kinda like IRC, kinda like Dropbox, kinda like a lot of things – it's a neat place to bring together communications between your team or community, and the integrations allow you to pipe in external feeds like twitter activity or RSS. It's a great way of collaborating online and I've found it especially useful not just within a company but within a global community.
I belong to a number of Slack groups which some of you may be interested in joining:
These are just a selection of the groups I'm involved in and it's been extremely helpful extending my network outside of twitter in a more collaborative format. There are lots of community slack groups out there and I recommend you give Slack a go by finding some groups that fit your interests. If one of the above isn't your jam, there a number of Slack directories out there, but my current favourite is Slofile. If like me you have a lot of Slack teams you belong to then I recommend you start using Franz, which if nothing else arrays Slack channels horizontally which works extremely well on my XPS13's aspect ratio.
Have fun Slacking folks!
PS Any Slack communities you'd recommend for me to join?